Historic Snowfall Interrupting Operations Out West
SAM Magazine—Tahoe, Calif., Jan. 11, 2017—Is it possible to have too much snow? Ask anyone in the Sierras or Colorado right now, and they'll say yes. A storm of rare strength,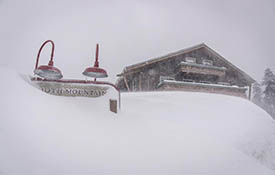 moisture content, and duration has been dumping feet of snow on many areas in the West, causing major roads and resorts to close until they can dig out and manage severe avalanche danger.
In California, several Tahoe-area resorts didn't spin lifts for much of the first part of this week. Kirkwood, Squaw, Alpine Meadows, June Mountain, Sugar Bowl, Sierra-at-Tahoe, Northstar, and Boreal were closed today after more than three feet of snow fell in just 24 hours. Road crews are having trouble keeping up, and power is out across much of the area. Mammoth Mountain has measured as much as 15 feet in the past week, which, coupled with high winds, has made for a challenging few days, operationally.
At Arapahoe Basin, Colo., on Tuesday, the ski area closed at 1 p.m. and asked everyone—staff included—to evacuate the area at the behest of the Colorado department of transportation. Avalanche danger was so high, CDOT closed Loveland Pass, the road that accesses A-Basin, from Keystone to Loveland—a rare move.
Also in Colorado, Monarch Mountain didn't open Monday or Tuesday because of significant snow that closed Monarch Pass—the only access to the resort—so crews could perform avalanche control. The ski area has seen 68 inches of snow in the past week.
Crested Butte has been in Ma Nature's bullseye for much of the season, and this week is no exception. On Monday afternoon, with heavy snow falling and high winds, the resort closed operations early for safety reasons. More than seven feet of snow has fallen at The Butte in the past 10 days.
On Wednesday night, the roof of the Ten Mile Room at the Village Hotel in Breckenridge collapsed under the weight of snow that had accumulated on top of it. According to reports, no one was seriously injured. The collapse did cause a small gas leak that was quickly contained, but the hotel evacuated and relocated guests from 70 nearby rooms as a precuation.
Resorts in the Pacific Norwest, Utah, and Wyoming have all been getting walloped with several feet of snow over the past week. It's deep, and it isn't even done yet. Snow is expected to fall across vast swaths of the West through Friday.
As long as things settle down, all this snow could mean big business over the MLK holiday weekend.